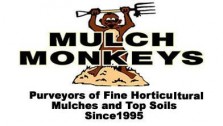 Mulch Monkeys is a retail mulch and topsoil provider located in Palmyra, VA at the beautiful Ground Effects Garden Center. Since 1995, we have provided premium grade, horticulturally sound organic bark mulches, colored mulches, organic topsoil and compost to Charlottesville and surrounding areas via delivery or customer pick-up.
Over the past 20 years, Mulch Monkeys has grown to become the leading source of mulches and soils in the Charlottesville area. Additionally, we now offer a selection of landscape stone, gravel and sand.
It has been our philosophy to provide the best products and services available offered at fair prices, and to make continued improvements to ensure our customers satisfaction and gardening success.
Our staff will assist you to make sure you purchase what you need for your project and that your buying experience is a pleasant one. We invite you to view any of our products by visiting us at Ground Effects Garden Center.
Thank you,
Mike Vlasis, President
(Alpha Ape)
Mulch Monkeys
11 Garden Lane, Palmyra, VA 22963
(434)589-1256


Mulch Monkeys © 2019